Introducing Johan: The Ultimate Public Address System
Do you need to make routine or emergency announcements?
Our public address system is a powerful sound amplification and distribution system capable of meeting the strictest requirements regarding sound intensity and intelligibility. Therefore, Johan is suitable for large and noisy working environments such as office buildings, air and rail terminals, factories, large sports stadiums, swimming pools, and school campuses, where the sound needs to be effectively amplified and distributed.
Johan's amplifiers and loudspeakers are used to reinforce sound; the system is suitable for the reproduction of speech as well as recorded music, and the distribution of sound throughout a venue or building. It gives you the possibility of delivering information to address a broad audience, either manually and directly via microphone, or automatically from a control centre so that people can hear the sound in emergency situations or during routine announcements.
Johan fully meets the EN60849 and EN54 standard requirements. The PA system is equipped with a 100W Class D power amplifier and powerful 32−bit microcontroller, supporting a scripting language. The device has a backup battery which can also be charged from a solar panel. In emergency situations, it enables users to make live−stream announcements through a microphone built in a local control unit (LCU) for evacuation or rescue operations. In case of routine announcements, Johan can automatically play back messages from its internal memory or play audio signals or even recordings from various external sources (radios, smartphones, etc.).
Johan works smoothly via the Ethernet link. However, it can be connected with other systems through the RS232 interface. Last but not least, Johan can be easily interconnected with the existent low-impedance (70V/100V) horn loudspeakers installed on users' premises.
If you are interested in the Johan public address system, feel free to contact us. Our team will provide you with a solution tailored precisely to your needs.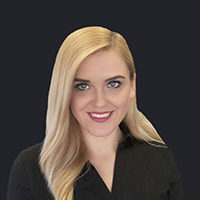 Article written by
Monika Šiserová
Monika is an International Business Manager for Balkan, Benelux and Scandinavian states. She worked for a diverse range of organizations, including government institutions, IGO in the field of migration, private sector and non-profits. The mentioned experience provided her the perfect foundation for challenging and meaningful work she does for Telegrafia. Therefore, she is very excited to bring you fresh news from the field of early warning and notification systems.