Let me in, Telegrafia: Marketing and Sales
At the heart of Telegrafia
You know who we are and what we do; we've been on the market for over 30 years. You know our goals, objectives, scope, and the quality of our products. We've written countless articles, made numerous videos about all these, and the company's name and products worldwide speak volumes. But there's one piece of information we haven't shared with you very much: our headquarters. The place where world-class electronic sirens are manufactured and developed – the place that allows the company's employees to work in an environment equipped with the latest technology and full of comfort for creative thinking, friendly relationships, and motivation for work. Six floors and seven departments in perfect harmony to help the world with what they produce. But speaking about our company's headquarters won't be that easy. And neither will be the order in which we go on our pilgrimage through the bowels of our building.
2nd floor – Marketing and Sales
A video is also included with the article, and since the 2nd floor is where the ideas for these articles (and videos) originate, let's start here. So, why don't we start with the text from the introduction to the video: The perfect interplay of work processes is one of Telegrafia's best-kept secrets to success? This is also why the Marketing and Sales Departments form a single unit. Our ability to blend different skills makes for a talented team. A shared workspace allows marketers to respond immediately and creatively to requests from salespeople. Is this the reason?
I honestly can't tell you. It was already like this when I joined Telegrafia. But you can believe that this team works together daily, which contributes to the efficiency of everyone's work. But so does coffee. Hmm … and you know what? Maybe it doesn't matter where people work. Perhaps we're good because our building allows us to be good. Not just the second floor but almost every single floor has a kitchenette, a meeting room (also used for foreign language lessons), and a chill-out room. The second floor also includes a reception room, so most visitors are filled with great wonder as soon as they step off the lift. Comfortable seating complemented by the smiles of our staff members will reassure everyone – they are serious here.
And we mean it. Sometimes more, sometimes less effectively, but that's only because we feel so much at home here. Marketing pulsates with creativity, shown on-screen a lot. Off-screen, we spend time in the photo and video room, where colleagues suddenly become movie stars. The latest digital technologies, which even the most demanding players wouldn't be ashamed of, make our work easier and faster. And the shared office of our salespeople fulfils the same role, where unnecessary space and thought barriers are broken down. Trainees and interns can thus observe how business is done in practice. The joint efforts of all involved are reflected on a map in the meeting room, where the countries our sirens have already travelled to are marked. While the sirens are going outside of Slovakia, we are getting outside of our offices. But not far away. The external workspace, made by a terrace surrounding almost the entire building, is on our floor, but any member of Telegrafia's staff can freely use it. It's good in the summer for work, coffee, a fresh breeze, and oxygen from the vegetation. And it's good in the winter, too… because we can say we have it. So? Here's our team, one by one.
If our building could talk, it would probably present us in a rather peculiar way. This article is information for you, so I'll do it my non-peculiar way.
Marketing? What to say. The creative combo of Mirka, Zuzka, Matúš, and Robo. You know how it goes in marketing. Articles, videos, photos, brochures, graphics, social networks, and the Internet, all for an excellent company reputation. And personally? This GIF should suffice here.
Sales? The department comprises the best international business managers at Telegrafia. I hope you've got the picture. These are Petra, responsible for the Spanish and French markets (languages: English, Spanish, and French); Monika for the Balkans, UK, Scandinavia, and the Russian-speaking countries (languages: English and German); Braňo for the Slovak and Czech markets; and Michal for the German market, India, Africa, and Australia (languages: English and German).
And who knows, maybe one day you will join them.
If someone caught your interest, just click, and feel free to write to them. Well, it will be much better if you write to them about business. That's what they're for, and for you. So? I've intentionally left out one sentence from the video: We manage our projects worldwide, but we still work from the comfort of our offices. And maybe we're just clever.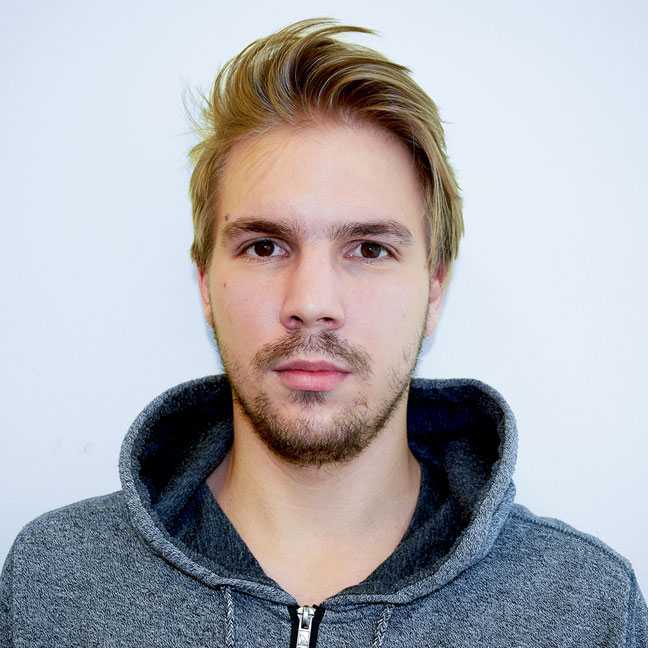 The article was written by
Róbert Jakab
Robert is like a moving photograph – because he is like a video. He can capture 60 frames per second. Whenever something happens, he records it. Currently, he's working on smaller videos and hoping to make a feature film one day and then its sequel. Telegrafia 2: Monkey Power