Vektra® Emergency and Rescue Management
As you have read in our previous blog posts, Vektra® is a server-client based system of modern software applications. It consists of several independent modules, and it is fully adjustable to clients' requirements.

Vektra® Warning enables you to control acoustic warning devices and activate alarms in dangerous situations. Vektra® Notification is used to summon all first responders to the site in emergencies. Vektra® SCADA allows you to manage individual control elements such as gates, air-conditioning equipment, loudspeakers and CCTV, and also supervise monitoring devices (i.e. sensors to measure harmful substances in the air, rising water levels, critical flow rates and others). Moreover, there is Vektra Emergency and Rescue Management® that allows automatic management of rescue and emergency operations.
Vektra® system applications: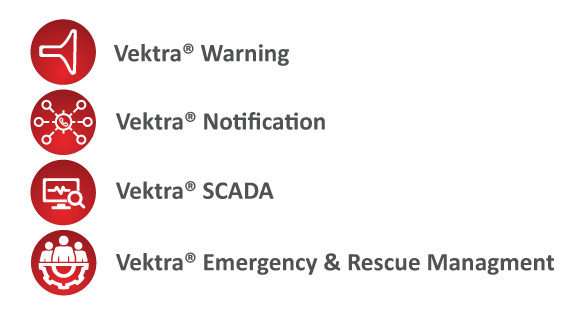 In today's article, we will focus on Vektra® Emergency & Rescue Management. With this software application, you can automate all critical processes in rescue control centres. It is a great tool to support all key processes, and it can help you organise and deliver high-quality services while maintaining your efficiency.
The software application consists of five modules differing in their functionality and purpose of use. Based on a customer's demand, you can choose the individual modules independently or in combination.
Module 1 – Event
The Event module is designed to help you store and retrieve all information about an incident or emergency that may occur, from the moment of its announcement through vehicles action planning and monitoring, to making records of the adopted emergency procedures and the resources allocated. A detailed report from each emergency situation can be created after the situation has been dealt with and can be used later for a variety of reasons. The module allows particularly:
Recording data on an incident/emergency

o Reporting an incident/emergency
o Recording information on the reported incident/emergency
o Planning and monitoring rescue vehicle operations during the whole period of their mobilisation

Generating a report on every event, containing all detailed information on the activities performed by the rescue and emergency units, material and fuel consumption of individual vehicles, the damage incurred, leak of chemicals, and many other essential parameters.
Locking the report for the protection of the recorded data.
Module 2 – Assistance
The Assistance module is designed for emergency units and other assistance services assisting customers on their request with the management of specific operations. This assistance includes namely:
Monitoring and planning particular types of deployment/events of the emergency and rescue units; for instance, the installation or maintenance of equipment on customer premises, assistance in firefighting operations or other incidents, based on demand from third parties
Generating monthly reports for invoicing purposes
Module 3 – Human Resources and Work Time
The Human Resources and Work Time module greatly facilitates businesses' ability to keep and manage all work-related records and processes, for example:
Recording work attendance and monitoring work time of employees, absences, sick leaves, and holidays
Generating and planning various types of shifts for workers
Keeping data about individual employees, such as personal and family data, financial information, professional qualifications and training data, diplomas and certificates including their validity dates
Module 4 – Maintenance and Stock
The Maintenance and Stock module is intended for effective resource planning and management in businesses, and it offers for example:
Recording levels of stock and equipment of emergency and rescue units, keeping information about the equipment condition, periodic inspections, maintenance and repairs
Simple inventory and stock keeping for rescue and emergency units
Module 5 – Training
A significant part of the work of emergency units is regular and irregular training. The Training module allows:
Planning and making records of professional training of emergency services, the drill of various rescue techniques, and examination sessions
Fields of applications: National & voluntary fire brigades / Rescue and emergency services /Heliports Mountain rescue services / Coastguard services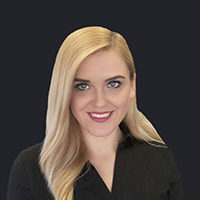 The article was written by
Monika Siserova
Monika is an international business manager for Balkan, Benelux and Scandinavian states. She worked with a diverse range of organisations, including government institutions, IGOs in the field of migration, private sector and non-profits. The mentioned experience laid a sound foundation for a challenging and meaningful job she has in the Telegrafia Company. Therefore, she is very excited about bringing you the latest news from the field of early warning and notification systems.