Radio Communications Channels for Warning Systems
An important question in an early warning system project is the right selection of means of communications between system elements. The appropriate choice of communications affects the system quality, operating speed, interference resistance, functionalities, and the project cost in general. The following article in our series about communications channels will be on a radio channel.
Radio Channel – Advantages and Disadvantages
Radio transmission technology is one of the oldest communications technologies and the most tested one. It has been used for different types of communications and solutions for many years, in almost any technological field. The first and main advantage of any radio network is its reliability: it is the most reliable and independent channel, quite resistant to any interferences/disturbances. Moreover, Telegrafia`s radio solution is protected against unauthorised access to the radio network. The second advantage of radio communications channels the network coverage, allowing covering vast areas and direct communicating between very distant system elements. The third advantage, the fastest data and voice transmission of all communications channels, provides the possibility of implementing large and scalable systems. Finally, a benefit for our partners is that Telegrafia has developed Acusticus, free software, which greatly facilitates the radio network design and calculations.
This type of communications has some disadvantages as well. The main of them is its price; the radio equipment is not cheap, and the building of a radio network may require additional investments for big warning systems. Another disadvantage is the dependence on terrain conditions: the use of the radio communications is not recommended for mountainous areas or extremely long distances between systems elements.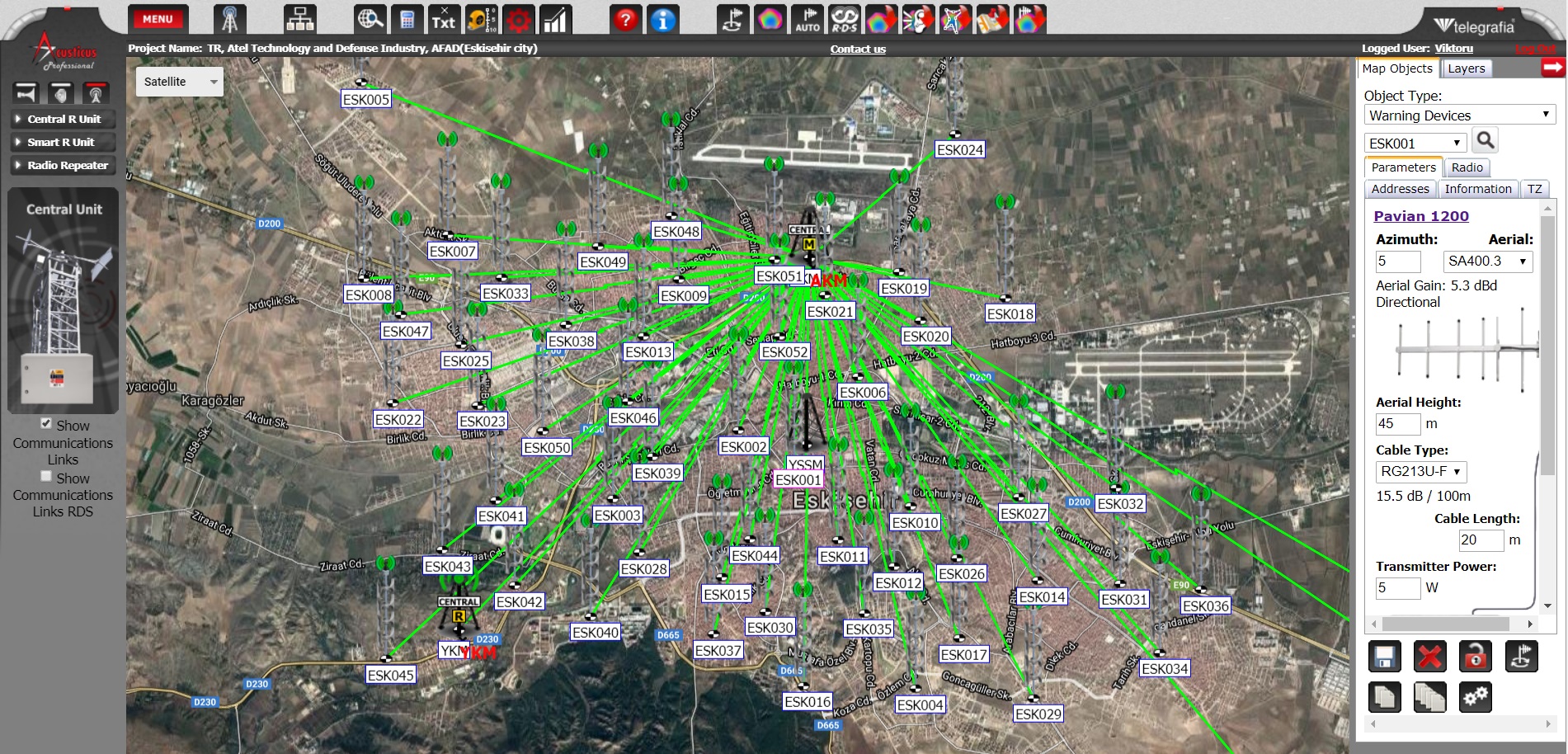 When Radio Channel Can Be Used
If you are looking for the most reliable early warning system of any scale, the best solution will be using a radio communications channel as the main one. This type of communications can be used in large early warning projects like nuclear power plants, oil & gas industries, national warning systems, etc. To back up the system, for example, in case of a power failure, it is best to combine the radio channel with another channel and use local control units for each siren.
Telegrafia has been using radio networks in early warning solutions for more than 25 years and has tested them on numerous own and partners projects. We hope that this article is useful for you, and we will be happy to assist you in the creating of the early warning system project of any complexity.
The article was written by
Viktor Ugolnikov
Viktor works as an international business manager, responsible for Russian and Arabic-speaking countries. He has had more than seven years of experience with telecommunications and more than two years with early warning systems. Also, he loves writing articles for our Blog. In 2018, Viktor became a partner of Telegrafia.