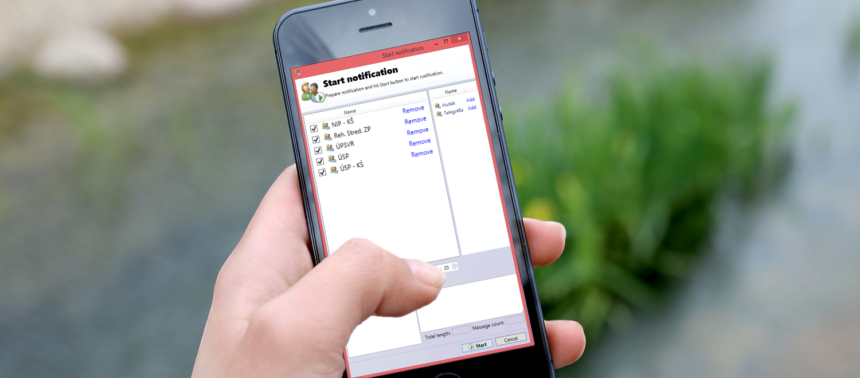 Practical Examples of Notification and Summons Systems Applications
There are several ways how to utilize the advantages of notification and summons systems. Here you can read about three of them.
A simple, hardware-based notification and summons system
Dozens of our customers use ammonia (NH3), chlorine (CL2) and other dangerous chemicals at work. A lot of countries are obliged by law to build an autonomous public warning system. In short, it means that if a hazardous substance is produced into the environment and human health or life is endangered, people need to be automatically informed of the impending danger. The most effective method of warning is sirens that are automatically activated in such an emergency. In the majority of cases, this emergency situation can be prevented from happening. The solution is much simpler than it may seem at first sight. It is necessary to inform an operator of the imminent danger in due time so that it can be effectively eliminated. This early notification of the operator is provided by the notification system together with a set of monitoring sensors connected to it. Thanks to this system, the operator can almost immediately respond to emergency situations, even if having lunch or inspecting other devices away from the control centre.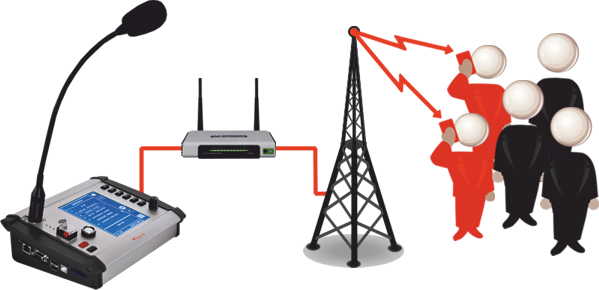 The simple, hardware-based notification and summons system can be used in case of any emergency to summon the first responders/rescues services according to a pre-configured schedule. Upon request, the system is also able to control and activate third party devices, for example, ventilation, gate opening, beacons, etc. Another frequent application of the system is reception halls, where it is used to inform the relevant persons of visitors upon their arrival, or of goods deliveries. The system is backed-up and fully functional even in case of power failure.
An extended hardware-based notification and summons system
The system monitoring power distribution from the mains in a big office building detects a supply failure at night. This information is passed to the notification system which, based on the previous settings, selects a group of responsible technicians from its directory and automatically plays a pre-recorded voice message about the power supply failure to them by phone.
The technicians being summoned must confirm the information of the received phone call by providing a security code to the system. At the same time, the building administrator is notified. However, as it is pre-set that this person is out of reach at the time and their communication language is English, the system will text a message (SMS) about the power failure in English to them.
The notification and summons system remains fully operational during the entire period of power failure thanks to the built-in back-up batteries.
The extended hardware-based notification and summons system meets all strict criteria for warning and notification systems used in emergency situations. It was developed directly by Telegrafia a. s., which means that customers can have a possibility of receiving the solution customised according to their individual requirements directly by the manufacturer whereby saving substantial investment costs associated with building a modern notification system.
An outsourceable, cloud-service-based notification and summons system
An important company operating in the energy sector has been optimising its costs for several years by outsourcing. When selecting the appropriate version of their notification system, the management of the company did not hesitate to long. They required a fast and reliable system that would contain all the necessary functions and save both capital and operational costs at the same time. Using the outsourceable, cloud-service-based notification and summons system, this company is now able to respond to emergencies in a few seconds, without having any specific software installed in computers. The operator of the system can be immediately connected to a distant server by using the web application and activate the process of notification of responsible persons.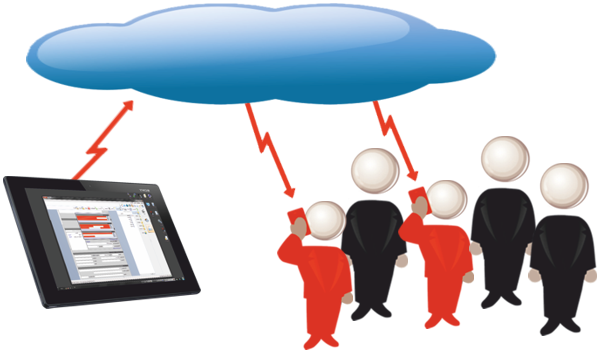 Moreover, they can define new and modify all existing events in their system. Hence, customers can use this notification system for the evacuation of their staff from dangerous places in emergency situations and/or simply for the summons of relevant persons to meetings. The main advantage is no need to buy any hardware or software. The only cost incurred is a fixed monthly fee, which is calculated according to the number of functions required, people to be notified and the urgency of their notification.