Celebration of the 100th Marathon in the Heart of Europe
Listen to article:
A historic event, a tribute to tradition, a celebration of a healthy lifestyle, childhood nostalgia, or a challenge of overcoming one's limits. The International Peace Marathon can be called many names because it means different things to different people. On the one hand, there are so many meanings, but on the other hand, there is a single goal in achieving something exceptional. The tradition in the form of an approximately 42-kilometre-long run in honour of the mythical messenger Phillipides, the central figure inspiring the marathon race, has recently celebrated its centenary. One hundred years have passed since the beginnings and the foundation of the Marathon in the heart of Europe, in Košice.
The Kosice Peace Marathon is the oldest in Europe and the second oldest in the world after Boston. Accompanied by the best performances, run by many big names, and spreading its awareness worldwide, it belongs to the seven wonders of Košice. And no wonder. Just the mere participation in it is taken as a kind of victory and respected by every person, not only the audience. For some, it is a long-term goal or a long-delayed resolution.
A record 17,000-plus runners honoured the 100th anniversary with their participation and thousands more as their support on the city streets. Whichever side, our colleagues were also represented. After all, the Marathon has been part of our work culture for many years, and the brave ones are not afraid to promote our company in Telegrafia's jerseys. It's just me who keeps writing about it.
This year, twenty-four of our colleagues who took part in the Marathon in various categories wore out their trainers on the track in Košice. Although we didn't have a person on the track who would have dared to run the whole 42,195 meters this year, our jerseys found their wearers in the mini-marathon (12), half-marathon (5) and the relay (7). I won't mention them all by name; however, they deserve all the honour and imaginary applause for their outstanding efforts. Some can be found in the pictures attached to the article. As a spectator, I equally applaud all those who simply stopped by for a cup of coffee or tea and enjoyed the event with the runners. After all, that's also the magic of the Košice Peace Marathon, right?
I will add a remark to conclude. The hundredth anniversary has been celebrated in style, but the hundredth start of the Košice Marathon is planned for the following year. Train hard so I won't stagger there as the only first-time runner.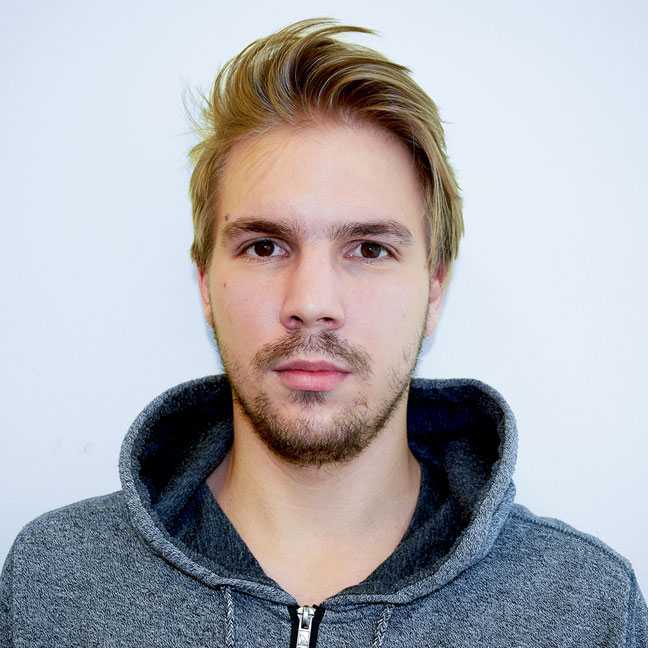 The article was written by
Róbert Jakab
Robert is like a moving photograph – because he is like a video. He can capture 60 frames per second. Whenever something happens, he records it. Currently, he's working on smaller videos and hoping to make a feature film one day and then its sequel. Telegrafia 2: Monkey Power