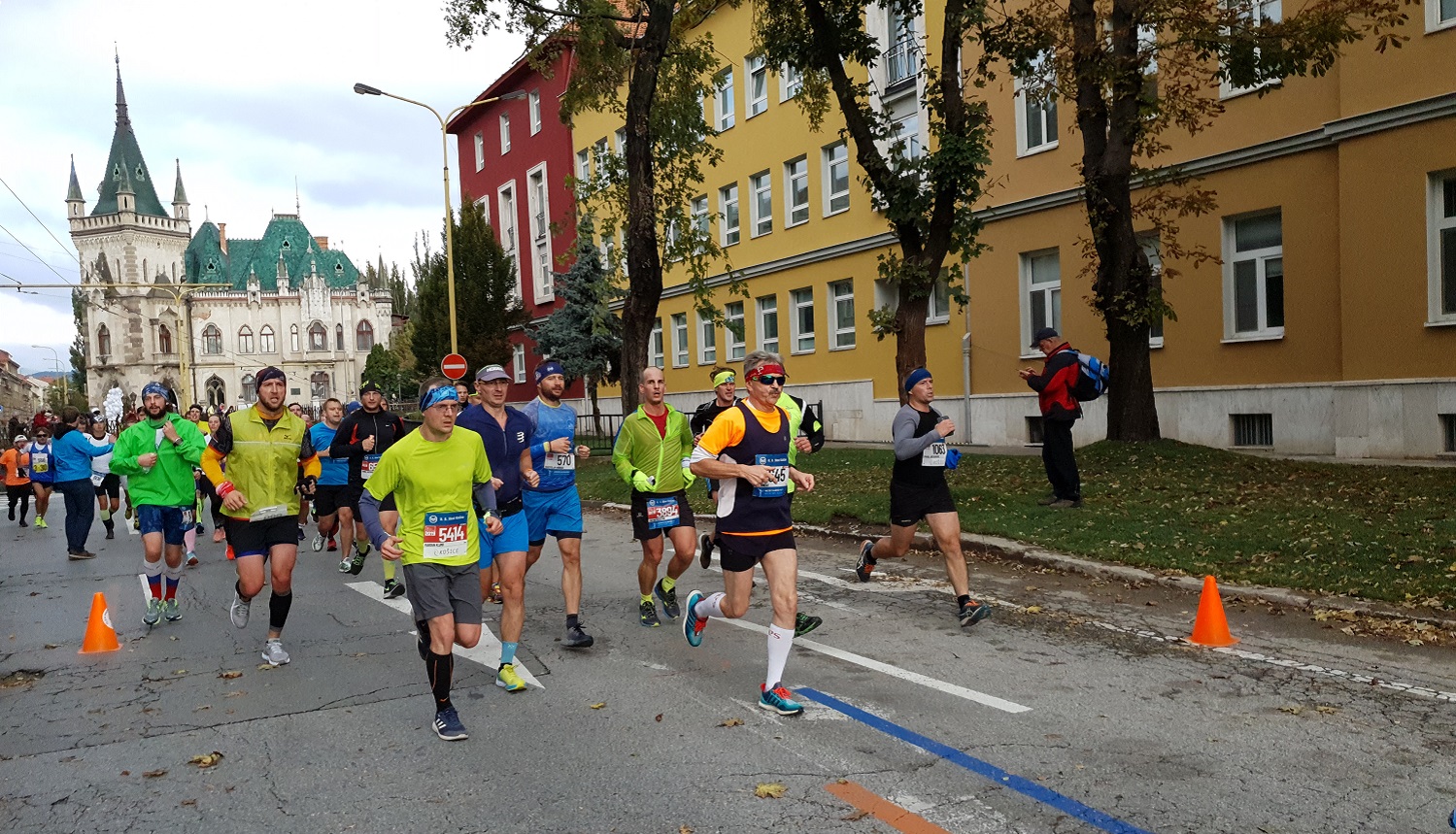 A Unique Atmosphere Pervaded the 2019 International Peace Marathon in Kosice Again
This year was slightly different from what we had been used to in previous years. The first Sunday of October was cloudy, gusty, and relatively cold, the temperature only around 10° C. Nevertheless, more than 14,500 runners stood at the start of the 96th Kosice Peace Marathon.
Among those, there were also 24 employees of the Telegrafia Company at the start, representing 20 per cent of the total number of staff and running in the company´s colours in the marathon, half-marathon, relay, and minimarathon sports disciplines. They enjoyed the runs in a traditionally good mood and performed remarkably well. Some more employees, who did not run, encouraged their colleagues greatly.
What feelings and impressions did this year's marathon leave to our colleagues?
Marathon
Miloš Čalfa
I ran quite well this year despite the legendary and notoriously bad Kosice's wind. Plus, there was no-one to hide behind in the second round; however, the atmosphere was great, as always.
Vilim Michal
It was my second marathon. The conditions were more difficult this year, but as it was not raining, it was easy to run.
I improved my time by almost 24 minutes, which made me happy. If I am healthy enough, I will retake part next year 🙂
Half marathon
Miroslava Malachovská
The weather forecasts were not favourable at all. But the rule is: there is no bad weather, just a poorly-dressed runner! So no excuses, I went on to run. The atmosphere was terrific, lots of spectators along the track. The run itself was great too, and although I did not set the track record, I smashed my personal record and improved by 5 minutes. I believe that my health will allow me to be at the start next year again.
Ladislav Kulič
The organisers prepared the track, refreshments during the race, and an exciting programme around the track perfectly as usual. I stood at the start after a one-year break and experienced the unrepeatable atmosphere with many people once again. Even though I did not manage to break my own record this time, I finished the run in 2.05 hours. So I have to work harder and do better next year 🙂
Šak Andrej
The pace as planned, the weather okay, except for the wind.
Relay
Molnár Branislav
It was all right to run this year although the weather was colder than last year. And it was great to see so many runners at the start. If possible, I'm going again next year. 🙂
Kotos Peter
A super relay with my colleagues, and although we did not set a new world record in the end, I have very positive feelings about it. After all, the point is not to beat the others, but to overcome oneself and move a little. 🙂
Janočko Viktor
I know that two years ago, I said I was not going to run the following marathon, but I was wrong. This year I was convinced I would drop my weight during my training, but the opposite was true. Unfortunately, I did not spend enough time preparing for the run to produce the desired effect, so I did not eventually lose any weight. However, I still managed to roll and stroll to the finish, adding another beautiful experience with my colleagues to the collection. 🙂
Gorej Peter
Despite the worse weather and traditional health problems, we improved as a team again this year. I hope it will be even better next year.
Minimarathon
Lenka Marčáková
I thought that my last years' experience of running, or actually "surviving" the half-marathon, was also my lifetime performance. But life showed me that I was all wrong. Running four kilometres with my 16-kilogram-heavy daughter on my shoulders exceeded all my expectations. The atmosphere was excellent as every year. I regret, however, there was no time to chat with friends at the finish line immediately after the run or to rest together with a beer in hand because of the nasty weather. Still thanks to all fans who came to support us in spite of this.
Zuzana Jacová
Running is not my favourite sport, and I had always attended the marathon only as a spectator until this year when I decided to try my hand at running. For the first time. To be on the safe side, I started with a minimarathon. And I must say somehow I got caught up in it: the atmosphere, encouragement, the number of runners running with you, all of these. I suddenly had boundless energy to give. That is why I firmly believe that I could run next year again, although I have never planned it before. 🙂
Tomáš Gášpar
I liked Minimarathon very much although it was pretty tough through the whole run. My sons also enjoyed it, so I think we will go again next year.
Taking part in the Košice Marathon as a runner or a fan near the track is more than just an unforgettable experience. Visit our beautiful Košice and be here for the oldest marathon in Europe.
"Try it once, fall in love forever."
The article was written by
Miroslava Malachovska
Miroslava is the marketing manager. She has been working for Telegrafia for more than twelve years. She began as a business department assistant and later worked as an educational centre coordinator. Since her return from maternity leave, she has been working for the marketing department. The experience and knowledge she has gained give her a solid base for the challenging and creative work she is now doing for the marketing department. She loves running, and keeps fit by regular training and preparing for half-marathon competitions.