Irma's storm surge
The deadly Hurricane Irma is the fourth hurricane of the season, and it has come about just one week after Hurricane Harvey wreaked havoc on the US city of Houston, Texas. Irma left a path of destruction all over the state of Florida after it pummeled the Caribbean islands earlier this week. At least 36 people are dead, extent damages are being still determined as the rescue operations are on the way. Florida is dealing with over six million people without power, and recording devastating flooding.
Hurricanes can be the most expensive and one of the deadliest natural disasters around. During a hurricane, high winds are not the only deadly force. The most significant threat to life actually comes from the water – in the form of storm surge. It is water from the ocean that is pushed toward the shore by the force of the winds swirling around the hurricane. Waves combined with storm surge can cause extensive damage. Danger grows as the water begins to destroy structures on the land. Beaches and coastal highways can be severely eroded. Storm surge with its huge destructive power can tear apart buildings, and the resulting debris is added to the deadly churning water. Rivers and lakes may be affected as the waters move inland and add to the rising flood levels.
While we cannot prevent storm surge, we do have a system that can warn us of the incoming threat.
Forecasters can closely monitor the path of hurricanes and evaluate the risk of coastal strike as it develops over the ocean. They help to determine which areas may need to be evacuated. Warning sirens are the most efficient solution during an evacuation. They can save human lives even in the event of a power outage. Telegrafia's electronic sirens are a valuable tool for keeping the public safe when a hurricane slams the coast. The Telegrafia company has a wealth of experience in the field, and numerous siren implementations all around the world speak volumes.
If you are seeking an optimal early public warning solution, do not hesitate to contact us. Our professional team will be pleased to help you.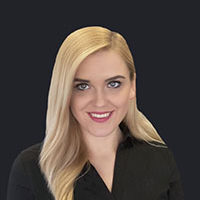 Article written by
Monika Šiserová
Monika is an International Business Manager for Balkan, Benelux and Scandinavian states. She worked for a diverse range of organizations, including government institutions, IGO in the field of migration, private sector and non-profits. The mentioned experience provided her the perfect foundation for challenging and meaningful work she does for Telegrafia. Therefore, she is very excited to bring you fresh news from the field of early warning and notification systems.